A wellness experience with Vulcano Island mud bath.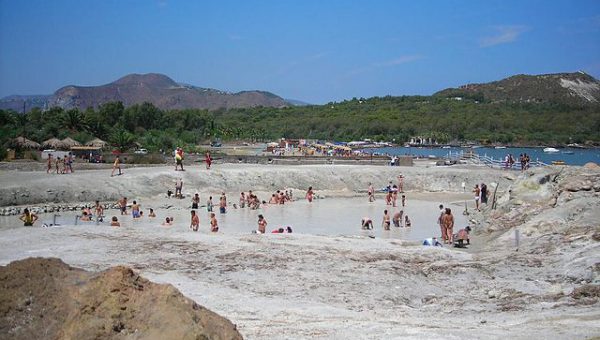 A holiday in Vulcano is not only just a simple holiday, but it can become a real wellness experience thanks to Aeolian Island mud bath.
Vulcano Island mud bath is a natural area, born spontaneously on the beaches, hills or in open sea and they unite the breathtaking beauty of the landscape with the beneficial effects of the thermal water and mud.
Right on this island, over the past years, the use of the spa with private facilities and related medical advice was regulated without changing the surrounding nature.
Vulcano's spa are divided in 3 areas: Vulcano Island thermal mud bath, the hot springs and the fumaroles.
The pond or mud puddle is characterized by groundwater from which bubbles of sulfur vapor, clay mud, anhydrides and metal salts escape. These centenarian muds are useful for skin health, respiratory and joint diseases. In the stretch of sea of ​​warm waters it is possible to enjoy a natural hydromassage and in the area of ​​the fumaroles to perform beneficial inhalation.
Aeolian Island mud bath are therefore an unmissable destination during a holiday in this beautiful archipelago.
Catalano Viaggi organizes various excursions to take advantage of the Vulcano Island mud bath with stays from one to several days. Contact us by phone (00390909284509) or trough our web site to know all our proposals and plan your wellness holiday with Aeolian Island mud bath.