Cheap Aegadian Islands holidays with Catalano Viaggi.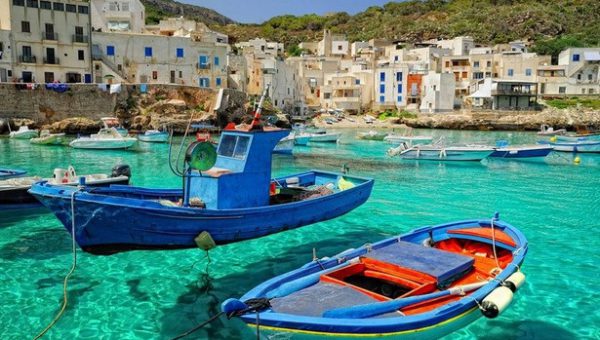 Crystal clear water, white beaches, wild nature: Aegadian Islands holidays are the keys for those dreaming of an unforgettable vacation.
Discover what Catalano Viaggi has to offer: cheap Aegadian Islands holidays and promotions to enjoy breathtaking landscapes and a caribbean sea.
Aegadian Islands are a Sicilian archipelago composed by Favignana, Marettimo and Levanzo, the three main islands, the small island of Formica, the Maraone Scoglio and many stacks and rocks.
They are part of the biggest European marine reserve and they are the perfect destination for relax, sport and nature lovers.
You will be able to relax by the sea in the most beautiful Aegadian Islands beaches and caves still untouched, go trekking or have a stroll in the flourishing inland, discover stunning seabeds snorkelling or diving, enjoy the sea and the breeze windsurfing.
A visit to Favignana is a must during Aegadian Islands holidays, the most famous island of the three. Here you can spend a sunny day at Cala Rossa, the most beautiful Italian beach, visit the historical tuna fishing zone, go for long walks in the Mediterranean woods and, above all, jump in one of the bluest seas ever.
Same story for Marettino, the farthest and wildest island. Its mountainous and steepy conformation has preserved its vegetative and faunistic heritage, making it ideal for those looking for sporty Aegadian Islands holidays. You will be able to explore it while doing trekking along paths, discover its marvelous caves, such as Grotta del Tuono or Grotta del Presepe, go diving or get to hidden caves by boat.
Levanzo is the smallest of the three, but just like the other islands, here you can find breathtaking panoramas and crystal clear waters that will make it impossible not to jump. You can't miss its caves, some also of cultural-archaeological interest such as the Genovese Grotta, its beaches made of sand or little pebbles.
At this stage, booking your Aegadian Islands holidays is a must for those seeking for the Carribean only a few kilometers from home.
Catalano Viaggi will organize a trip tailor made on your needs including cheap Aegadian Islands holidays options.
Get in touch with us by phone (+390909284509) or through our web site  to learn more and plan together your unforgettable Aegadian Island holidays.